Scope of the business activity of the company ENERGOMONTAŻ-POŁUDNIE KATOWICE Sp. z o.o. includes:
assembly and modernization of technological installations, equipment and steel structures for the industry

assembly, modernization and repair of pressure equipment and installations for power plants and for professional and industrial combined heat and power generation plants

assembly of new, complete power facilities as regards power boilers along with accompanying installations and equipment, of steam and technological pipelines, air and flue gas ducts and steel structures.
The Implementing Team
, made up of over 200 specialists, is responsible for the assembly and repairs of new installations. The Team can boast:
project managers and engineers, as well as construction managers ensuring supervision over a proper performance of the works

quality controllers, OHS and environmental protection inspectors ensuring supervision over the quality and safety of the works

masters and foremen, equipment and steel structure and pipeline fitters, pipe and steel structure welders ensuring the performance of the works in the agreed scope and time schedule.
The Logistics Team is responsible for the planning process, implementation and control of an effective and economically efficient flow of materials and services, as well as for relevant information in order to meet the Customers' requirements. The Logistics team ensures among others:
material supplies and support at construction sites

specialized subcontracting (scaffoldings, lifting services etc.)
Our welders are qualified according to the EN 287-1 or EN ISO 9606-4 standards in:
141, 111, 135, 114 welding methods

1 – 11 and 43 – 46 (Nickel Alloys) material groups
We have a total of 412 approved welding technologies (WPQR, WPS), including:
280 technologies according to the EN 15614, AD2000, TRD201, EN12952 and PED standards

107 technologies in accordance with the UDT (Office of Technical Inspection) requirements

20 technologies in accordance with the TDT (Transportation Technical Supervision) requirements

Welding technologies according to EN 287-1 in percentage terms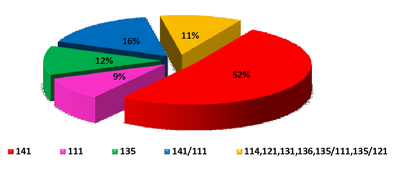 Welded materials by material groups (CR ISO 15608) in percentage terms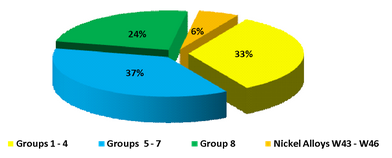 Description:
Groups 1- 4 (P235, S355, P460, 10HAV, St37.2, XAR400, L360NB …)
Groups 5-7 (16Mo3, 13CrMo, 10CrMo, P91, P92, 7CrMo, VM12, X10CrALSi13, X10CrALSi18 …)
Group 8 (X12CrNiTi18-9, X15CrNiSi20-12, X8CrNiTi18-10, S304H, HR3C,304L, 316L …)
Nickel Alloys 43-46 (Alloy 617, Alloy 625, Nicrofer 5923hMo, NiMo16Cr15W)